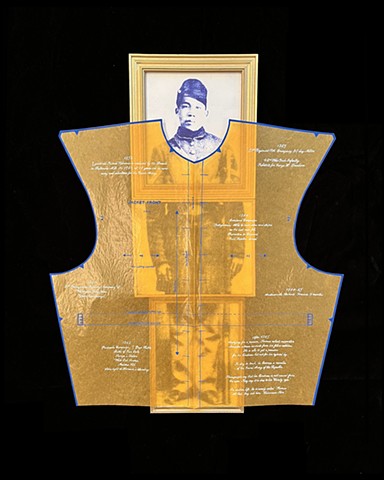 Thomas in the War
Paper Lithography in 3 Frames with Overlay Drawing and Hand Calligraphy on Golden Yellow Glassine
25" wide x 30"h [63.5 x 76.2cm]
2022
This is a fine art print of Thomas in his Civil War uniform. Layered on top is a Civil War jacket sewing pattern that tells details about Thomas' experience during the war.
1852
7 years old Thomas Sylvanus is enslaved by the Duvalls in Baltimore, MD. In 1861, at 16 years old he runs away and volunteers for the Union Army.
1861
81st Pennsylvania Infantry, Company D
Washington Navy Yard
Upper Marlsborough
1862
Peninsula Campaign, 7 Days Battle
Battle of Fair Oaks
Savage's Station
White Oak Swamp
Malvera Hill
Loses sight at Harrison's Landing
1863
51st Regiment PA. Emergency 90 day Militia
1863
42nd New York Infantry
Substitute for George H. Dearborn
1864
Overland Campaign
Spotsylvania: Able to raise stars and stripes
as the last men fell.
Promotion to Corporal
Cold Harbor: lamed
1864-65
Andersonville Stockade. Survives 9 months.
After 1865
Applying for a pension, Thomas collects supportive character witness accounts from his fellow soldiers.
He is able to get a pension
for his blindness but not for his injured leg.
To stay in touch, he becomes a member
of the Grand Army of the Republic.
Townspeople say that his blindness is not caused from
the war. They say it is due to his Chinky eyes.
In civilian life, he is rarely called 'Thomas'.
At best, they call him 'Chinaman Tom'.